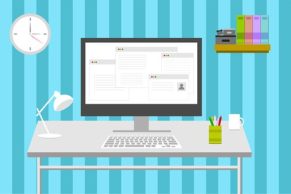 From www.irs.gov/uac/eftps-the-electronic-federal-tax-payment-system:
New enrollments for EFTPS can take up to five business days to process.
The Easiest Way to Pay All Your Federal Taxes
EFTPS® is a system for paying federal taxes electronically using the Internet, or by phone using the EFTPS® Voice Response System. EFTPS® is offered free by the U.S. Department of Treasury.
EFTPS® offers …
Security
Convenience
Accuracy
Security You Can Count On
EFTPS® is a secure government web site that allows users to make federal tax payments electronically. Every user must have a secure Internet browser with 128-bit encryption in order to access the site. To log on to the system, an enrolled user must be authenticated with three pieces of unique information: Taxpayer Identification Number (EIN or SSN), EFTPS® Personal Identification Number (PIN) and an Internet Password. The combination of these three pieces of identification adds to the security of the site and the privacy of taxpayer data.
Convenience at Your Fingertips
EFTPS® offers you the convenience and flexibility of making your tax payments via the Internet or phone. You can initiate your tax payment from your home or office, 24/7.
Businesses and Individuals can schedule payments up to 365 days in advance. Scheduled payments can be changed or cancelled up to two business days in advance of the scheduled payment date.
You can use EFTPS® to make all your federal tax payments, including income, employment, estimated and excise taxes.
You can check up to 16 months of your EFTPS® payment history online or by calling EFTPS® Customer Service.
Accuracy You Can Depend On
By 8 p.m. ET at least one calendar day in advance of the due date, submit your payment instructions to EFTPS® to move the funds from your account to the Treasury's account for payment of your federal taxes. Funds will not move from your account until the date you indicate. You will receive an immediate acknowledgement of your payment instructions, and your bank statement will confirm the payment was made.
EFTPS® Enrollment
To enroll, or for more information on enrollment, visit EFTPS® or call EFTPS® Customer Service to request an enrollment form:
1-800-555-4477
1-877-333-8292 (Federal Agencies)
1-800-733-4829 (TDD Hearing-Impaired)
1-800-244-4829 (Español)
EFTPS Inquiry PIN
When Payroll Service Providers enroll clients in EFTPS an EFTPS Inquiry PIN will automatically be sent to the taxpayer. Taxpayers who have had activity on their EFTPS account over the prior 12 months will also receive Inquiry PINs. This Inquiry PIN allows the taxpayer access to monitor the EFTPS for transactions made on their behalf.
And there's more…
Tax professionals, accountants, and payroll companies are discovering the added benefits of using EFTPS®.
EFTPS® via the Internet or phone – Once enrolled, individual and business taxpayers can use the Internet to make all their federal tax payments via the Internet, or phone using the EFTPS® Voice Response System. Both payment methods are interchangeable.
EFTPS® Batch Provider – Tax professionals/providers can register through this software and send up to 1,000 enrollments and 5,000 payments in one transaction. Users can synchronize enrollments and payments between the software and EFTPS® database in real-time. To download the EFTPS® Batch Provider Software and User's Manual visit EFTPS® and follow these steps:
Click on HELP & INFORMATION
Click on Downloads
Click on Batch Provider Software User's Manual
Click on Software (left side of screen) for additional information
EFTPS® Bulk Provider – Designed for payroll processors who initiate frequent payments from and desire automated enrollment through an Electronic Data Interchange (EDI) compatible system.
From www.irs.gov/uac/eftps-the-electronic-federal-tax-payment-system